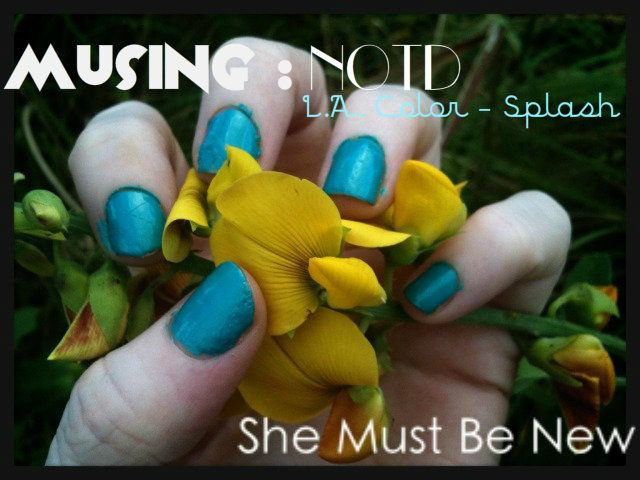 Hey guys. So i was actually going to take a break from painting my nails this week. Sometimes i think it's nice to do them one week in and one week out, just to give them a chance to be natural and healthy :). I must admit though, I'm glad i didn't, it gave me a chance to experiment with being a little creative with my picture taking of them. (I see one New Year Resolution that's going to be easy to keep!)
Now while I'm sure this is my 'Splash' I'm going to recheck in the morning because i think I've mixed up the names of two of my close colours
Um! yeah so...as i was saying, L.A. Color in Sea Siren
Totally came out of no where but i started musing different ways of showing the same concept only with a different layout. So as a strolled out the house and off to get the bus i noticed these pretty little yellow flowers coming up on the side of the road...
I figured I'd stop and give them a little spotlight cameo on my blog! What do you think?
Then again as i rode the bus i wondered what my little phone camera could capture in motion. I must say I'm pleased. I like that blurred background effect i got out of it.
I became so amused and as i always, i became surprised as to the level of beauty just constantly swirling around us in day to day life. Just sitting beneath our focus, on the side of the road..just blurring past us, beside us as we travel from one state of being to the next
Crazy little musing life we lead. Today a friend of mine was recounting to me something he herd in his childhood that left a ripple effect on his life. "No matter what happens to you in your life, no matter what you do, you are just a drop in the ocean of the universe"
Um. wow?!
Just thought I'd share.