I don't get to read as much as I'd like to anymore, at least not read books that aren't on a syllabus. When i finally do get any kind of holiday from school i don't want to see books honestly...It's really unfortunate because i feel like I've cut off an avenue of learning i gain so much from. Then that got me reflecting, often one is asked. What is your favorite book? I suddenly started thinking about what are my top three. I was amused to find that all three of them were self help books disguised as works of fiction.
The Alchemist.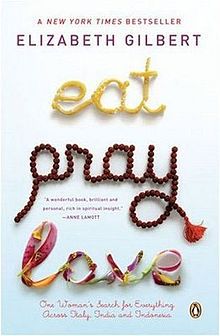 Eat. Pray. Love.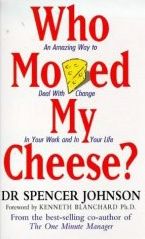 Who Moved My Cheese.
I give them all 5/5 ratings. These books really did change my life, especially the first one! They all talk of journeying to the soul and over coming barriers to get there, whether it be language barriers, thieves, those trying to steal your joy, your will, your future or getting lost in a maze, often of your own making, as we seek out destiny. Here are just a handful of the quotes that stayed with me from these amazing books:
~
"Trust in your heart, but never forget that you're in the desert."

"It is we who nourish the Soul of the World, and the world we live in will be either better or worse, depending on whether we become better or worse"

"No matter what he does, every person on earth plays a central role in the history of the world. And normally he doesn't know it."
"If I can learn to understand this language without words, I can learn to understand the world."

"And maybe it wasn't that they were teaching me, but that I was learning from them."

"Sometimes, there's just no way to hold back the river."
~The Alchemist
(I honestly would quote the whole book if i could!)
"A Change Imposed is a change apposed" ~ Who Moved My Cheese

"Useful, then, might be to accept how i was made and embody myself fully therein" ~Eat Pray Love
"A man prayed before a statue 'please give me the grace to win the lottery. One day the statue replied 'please buy a ticket" ~Eat. Pray Love (I'm very sad to say i lost all my quotes from the book! This particular quote is paraphrased. Oh well, I'll just have to read it over :D!)
What are your top three favorite books? Come now, not just your favorite, it needs to be more than one. It's interesting to reflect on what these books say about you as a person. For me it looks like the same solitary message has been screaming to me from all across the universe: Love yourself, absolutely. The journey is hard but absolutely worth it and remember, a lot of the barriers are of your own making. Also, you are very small in the grand scheme of things but that's no excuse to not appreciate all of this beauty surrounding and inside of you. If you ever get a chance i fully and wholeheartedly suggest you read any one of these books, you can only gain from the experience.
What do your favorite books say about you, what has called to you over the years, can you see a link between them?
Peace. Love. Read & Reflect.