Yes, I'm an Asian Drama lover, parochial to all things Korean :] The jig is up!
Don't stand to close now! Or i just may birth a love for it in your OWN heart! Don't believe me? try me! Sit with me through ONE episode and you'll see!
I love Korean culture, their movies, shows, music, fashion, language and possibly food, I'm not sure yet i haven't gotten much chance to try it...
Finally i was able to find a good friend willing to watch dramas with me, something that happened after her friend went to Korea and watched Boys Over Flowers/ Boys Before Flowers
Based of the
Japanese
Manga (later turned J-drama) Hana Yuri Dango!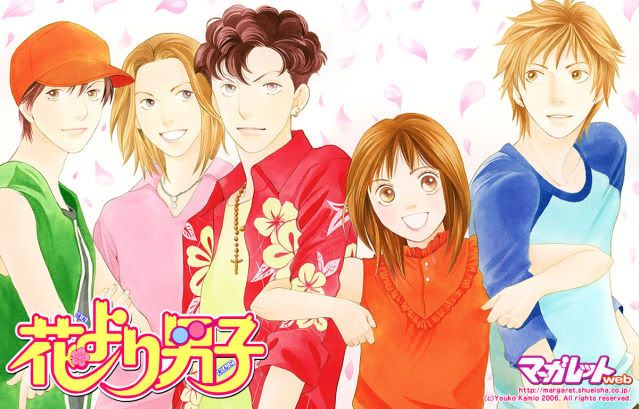 Check out the F4-Japan!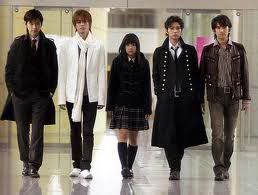 (May actually watch the jdrama someday it looks REALLY good!)
Short conclusion on this kdrama? What i loved? the AMAZING commandeer between our Flower Four, well done. I don't think I've ever run across a better portrayed friendship in a Korean Drama. And though BOF is not up there in my top five favorite Korean Dramas, when i finished i,t it did leave me missing the boys, in fact i almost bought a shirt with their beautiful faces!
F4-S.Korea!
I mean look at those precious boys! How could i resist?! May still get that shirt!.
So after we watched BOF together a group of her friends in the States and herself and I sitting in her apartment bickering happily <3 i thought Hey! Up for another? Only i FIVE star drama this time!? (i give BOF three stars at best)
And Lo and behold, we watched the current Creme of the crop:
Secret Garden

IF you do not like the Korean Dram Secret Garden...then it's okay it's cool i guess it's not for everybody....
This drama has plot, amazingly choreographed fight scenes, beautiful sets and DON'T even get me STARTED on the actors MIND blowing performances!
Hyun Bin as Main Male Character(MMC) : Kim Joo Won and Ha Ji Won as Main Female Character (FMC) Gil Ra Im?! You wont know what hit you! But I won't do a full review now, i wouldn't be doing this amazing kdrama justice and i would never want to do that! Let me know if you're interested in me doing one though :)
I will say this though, I haven't seen chemistry like this since Ariel Lin and Joe Cheng in my favorite Taiwanese Drama (and first Asian Drama i ever watched, how LUCKY am i?!)
It Started With A Kiss

Since this is the original if you're a Japanese Manga and or Anime lover it's a fun experience...
They recently made a Korean adaptation known as 'Playful Kiss/Mischievous Kiss'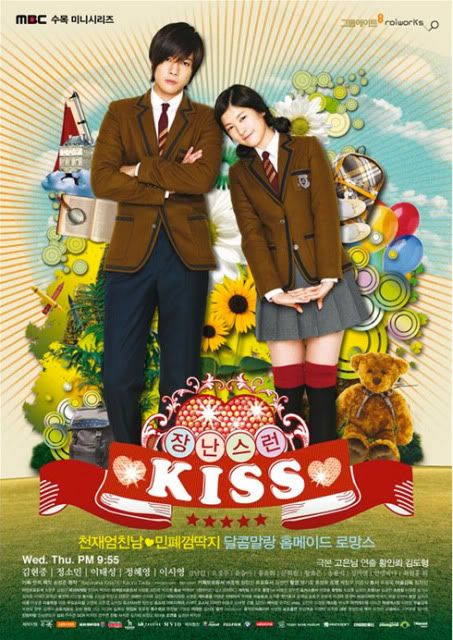 which i happen to hate. If given the choice watch 'It Started With A Kiss'. Looking at the posters alone should tell you the amount of work put in. Just the facial expressions on Taiwanese actors Ariel Lin and Joe Cheng draw you into a deeper story. That peered with the accurate portrayal on the poster of Ariel's character trying to 'paste herself next to him and fit into his life' while Joe looks unimpressed with a kind of 'really?' look at the camera as apposed to the Korean actors who have a very...er....what should i even call those looks? plastic expressions?
Also, Korean Dramas and Taiwanese Dramas are two VERY different experiences, for this amazing story the Taiwanese did it best. (Sorry Korea but you failed me on this one)
Well That was a very unintentionally lengthy post about Asian Dramas and what they mean to me which brings me to The Point!
The Korean Drama
: Hello My Teacher
Korean Name
: 건빵선생과 별사탕 / Geon-bbang-seon-saeng-kwa Byeol-sa-tang
Also Known As
: Hardtack Teacher and Star Candy / Biscuit Teacher and Star Candy
Number of Episodes
: 16
Broadcast network:
SBS

Broadcast period:
2005-Apr-13 to 2005-Jun-02

Air time:
Wednesday & Thursday 21:55
My friend and I and some MORE awesome people shall be watching this together...i hope!
Episode 1 – 21st August
Episode 2 – 28th August
Episode 3 – 4th September
Episode 4 – 11th September
Episode 5 – 18th September
Episode 6 – 25th September
Episode 7 – 2nd September
Episode 8 – 9th October
Episode 9 – 16th October
Episode 10 – 26th October
Episode 11 - 30th October
Episode 12 – 6th November
Episode 13 – 13th November
Episode 14 – 20th November
Episode 15 – 27th November
Episode 16 - 4th December
. Feel free to join our viewing experience! :D
Now i leave you with a little slice of Korean culture by way of my favorite Korean Boy Group Big Bang as they demonstrate their shout and peered dance for the 2010 Fifa World Cup, ENJOY!